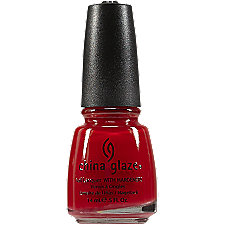 I love this color. It's the perfect, perfect red for my skin tone. The formula is wonderful...thin...but surprisingly opaque. It's older, I picked it up in a bargain bin...so I don't know how easy it is to find.
The thing that makes this color awesome is how it makes you feel. For some reason, red nail polish feels powerful. It's classic. For all of the weird colors and designs I wear regularly...simple red is something I need to remember to wear more often.
Picture credit: Sally's Beauty Supply website.